I am delighted to celebrate International Women's Day by introducing Equality Group's Inclusive Top 20 PE & VC Index, analysing 400 global private equity and venture capital groups each with a minimum of $1bn in assets under management. By tracking firms' progress annually, the index aims to challenge the stereotypical image of the alternative asset management industry and increase transparency and accountability.
Today is a celebration of inspirational women and leaders. Anna Wahlström is one to be celebrated. The global head of HR at Sweden's EQT, which came second in our private equity ranking, rightly stated that "diverse teams crush the competition" after her firm rolled out Equality Group's Conscious Inclusion training to its 700 global staff and achieved a target that 65% of new recruits were women in 2020.
As awareness of the strong relationship between diversity in talent and improved financial performance grows, private equity and venture capital firms have begun to tackle their lack of diversity and create the foundations for improving inclusion.
The statistics speak for themselves. In 2019, financial services companies in the top quartile for gender diversity on executive teams were 25% more likely to have above average profitability than companies in the fourth quartile, according to a report by the consultancy group McKinsey.
The Equality Group Inclusive Index is a proprietary scoring methodology that ranks companies on inclusion, diversity and equity results from publicly available information sources. The criteria consists of seven categories, considering content that is publicly available on the company's website, social media activity and published reports and news articles from the last 12 months.
Congratulations to all the funds listed in the Top 20.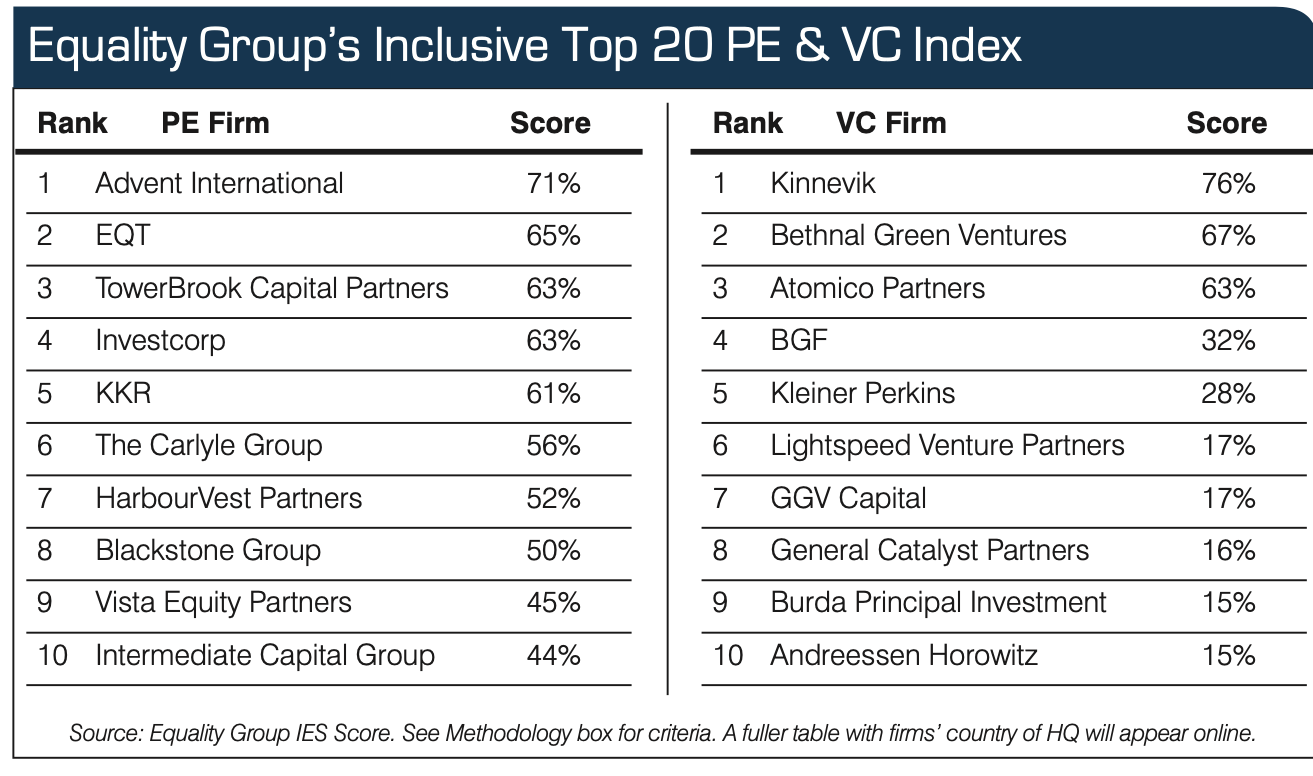 Great progress is being made in the PE and VC world – and with tangible results – but more needs to be done. Our index will accelerate transparency in these organisations and encourage positive change.
Happy International Women's Day!